Band pile weatherstripping- It is the patented product born with many years of will to develop and continued efforts by Yusung's engineer team, and is the product that Yusung-Industry only can produce and sell in Korea.

It prevents the pile of woven pile weatherstripping from falling out or lying sideways, and its extruded base offers excellent insertion and appearance. It is characterized by the only band pile weatherstripping manufacturing system in Korea that maintains the height of pile and the width of bottom thereof constantly at all times, and also can produce specialproductsthat are from 20mm to 50mm in pile length that are not available for the existing woven pile weatherstripping, whereby fully meets customer's needs, gaining great popularity in the strict Japanese market.

Yusung-Industry was designated as a partner company of Sanko Aluminum Co., Ltd, Japan's largest sash maker, and delivered its whole consumption they need. This is playing a role in widely promoting Yusung weatherstripping in Japan.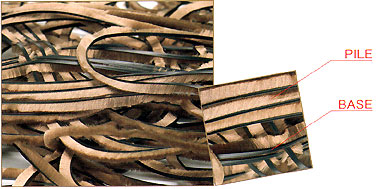 | | |
| --- | --- |
| | Yusung Band Pile Weatherstripping is an airtight product great for aluminum, plastic and wooden frames as well as high quality special window frames that require special technical skill. |

NO.of pile
Manufacturable width(W) (m/m)
Manufacturable pile hight(H) (m/m)
Color
Woven
3.5 - 80.0
3.0 - 20.0

GREY
BLACK
WHITE
BRONZE
SKY-BLUE

Fin
4.5 - 13.0
3.0 - 20.0
Band

3.5 - 10.0

3.0 - 50.0
Tape
5.0 - 20.0
3.0 - 20.0
For specifications and colors not specified on the catalogue, please feel free to contact our main office since they can be adjusted and produced to suit uses

*

Click

the product image you can see the detailed view.